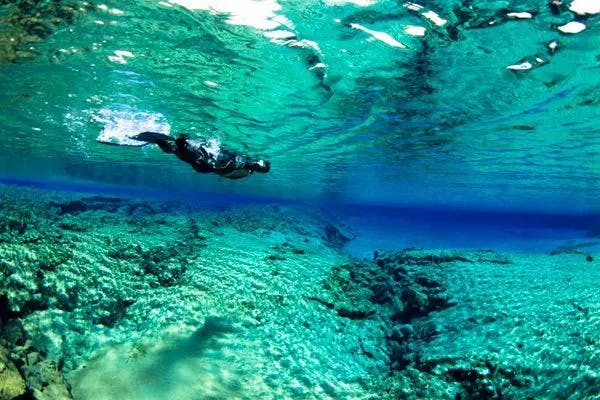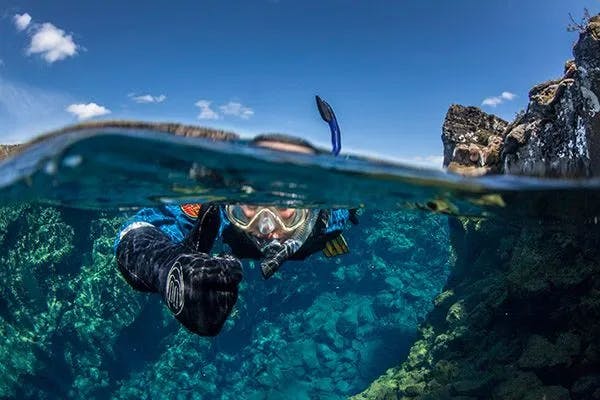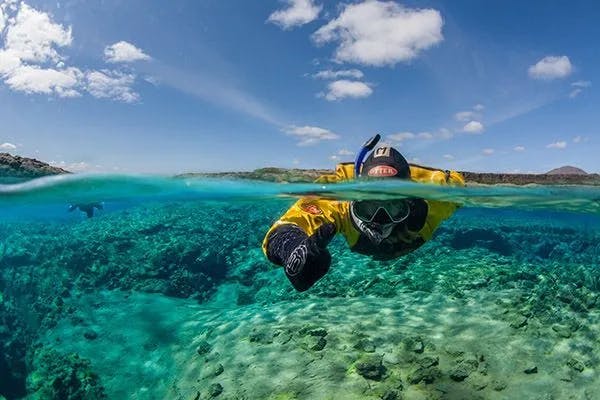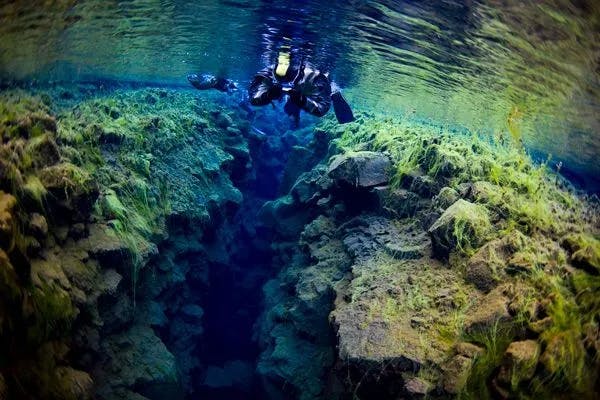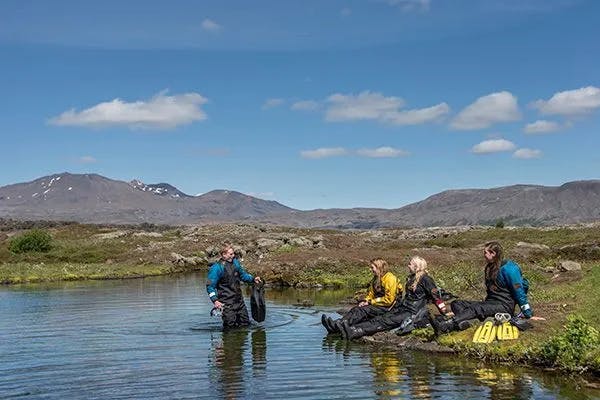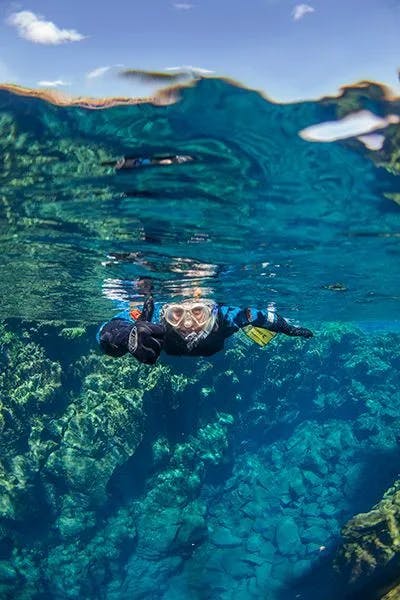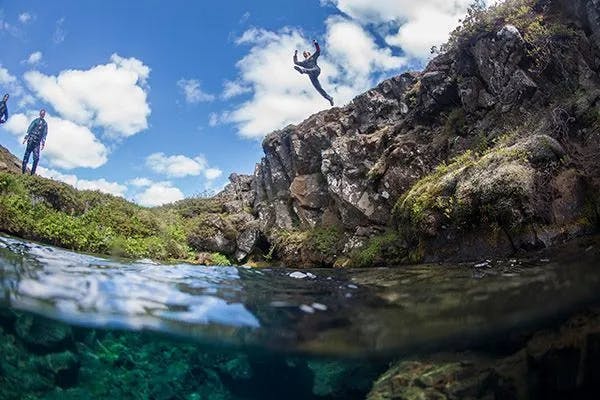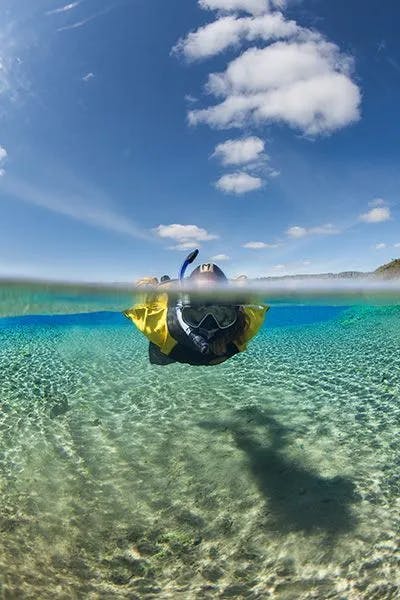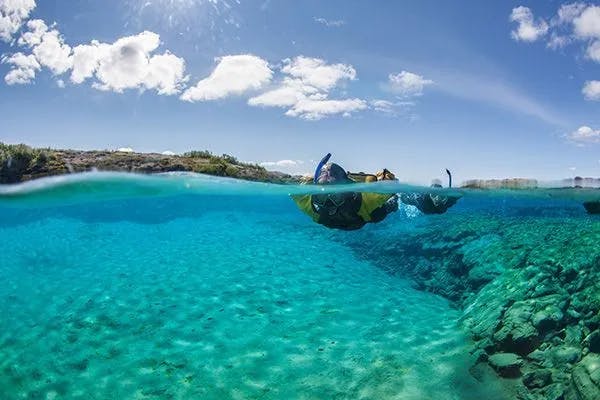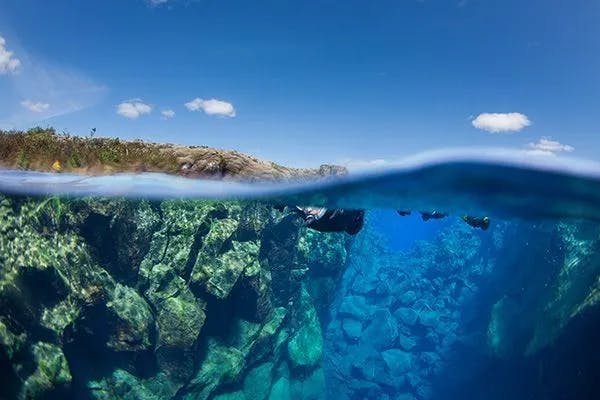 TOUR DESCRIPTION
The experience of snorkeling in Silfra is otherworldly and probably the most exciting adventure you will do in Iceland. It does not require any certification or previous snorkeling experience, the only requirements are that you can swim independently and are in good physical shape.You will begin your day by being picked up at your hotel in Reykjavik and driven to Thingvellir National park.
Please read thoroughly this section and evaluate if you accept the following for the Silfra snorkeling tour
Snorkeling in silfra fissure involves a moderate level of exercise

The dry suit has seals on the neck and wrists that stop water from getting in. a very good thing when entering the glacial water but these needs to b quite tight and if you are claustrophobic this might be a little uncomfortable.

The time spent snorkeling is about 30 – 45 minutes and the water temperature is 2′ Celsius so its best to eat and drink before the tour starts.

Although you might have realized since this is a snorkeling tour we still want to mention that your face, hair and hands will get wet during this activity.

Outside temperatures in Iceland can be quite cold. After all we are in the so called country Iceland. You will spend up to 3 hours outside. Dress accordingly and make sure you have warm thermals, winter coat, hat and gloves during winter time.

Participants cannot wear any type of jewelry in the water as sharp items can break the suit.

There are no locker rooms at Silfra. Please do not bring any valuable items that you don't need on the tour.
You are not allowed to snorkel if you have any of the following conditions.
Inability to perform moderate exercise (swimming 500m and walking 600m)

Current or previous heart disease, heart surgery or heart attack

Current lung disease

Previous pneumothorax (collapsed lung), chest disease or chest surgery)

Head injury with loss of consiousness during recent years

Thrombocytopenia or other blood dsorders

Colostomy or ileostomy

Recent Epilepsy or conditions resulting in sudden unconsciousness

Obesity

Raynaud's Syndrome

If you have any of the following conditions below you will need to provide a doctor's letter before the tour.

Higher or lower blood pressure then normal

Diabetes

Asthma (mild to severe)

Head/back/injure that might event sporting activities
Note: Pregnant women are not allowed to snorkel in Silfra
WHAT TO BRING
✔ MUST: Thin thermals wool layers, fleece or synthetic
✔ MUST: Warm Socks in wool or fleece
Max Weight for Women 110 KG
Max Weight for Men 120 Kg
Disclaimer
All tours are undertaken on the responsibility of its participants. The Operator does not assume any responsibility for accidents that are caused by its customers or can be traced to their own actions.
Participants have to sign a waiver before undertaking all trips stating that they realize that our activities carry an inherent risk.
AVAILABILITY
All Year
LEVEL
Moderate
MINIMUM AGE
12 Years
PICK UP
Yes
DEPARTS FROM
Reykjavik
Snorkel between North American and Eurasian tectonic Plates
Thingvellir National Park
WHATS INCLUDED
Snorkeling Tour
Certified Dive Master Guide
All Necessary Safety Equipment
Pickup & return transfer from bus stops downtown
(please check what bus stop is closest to your hotel) www.busstop.is