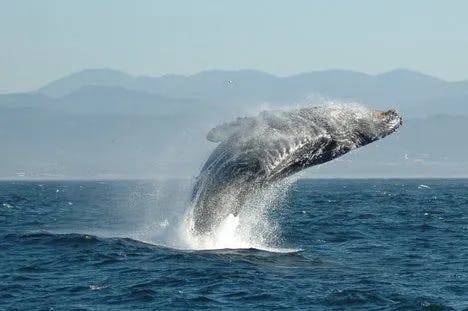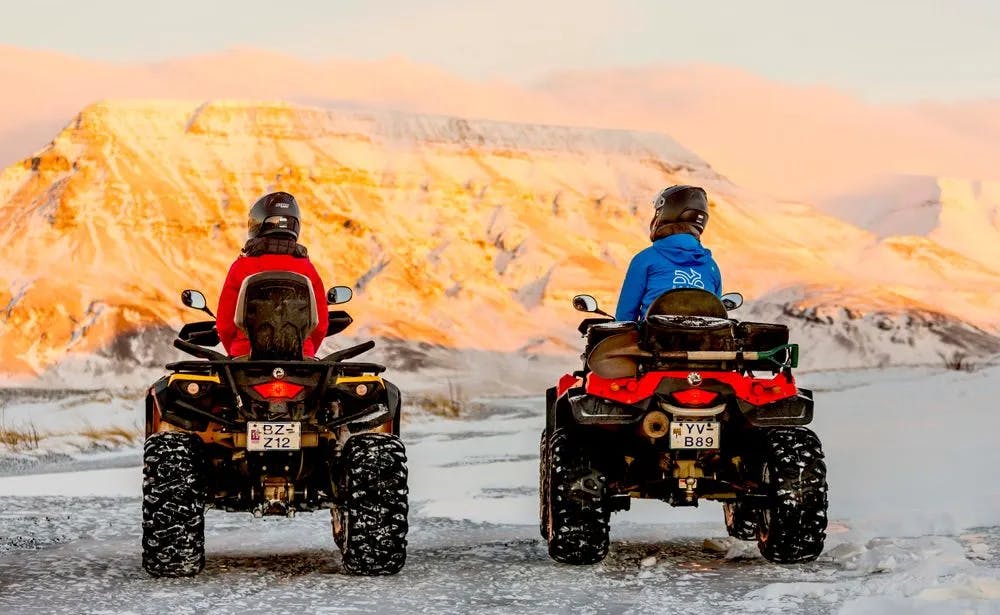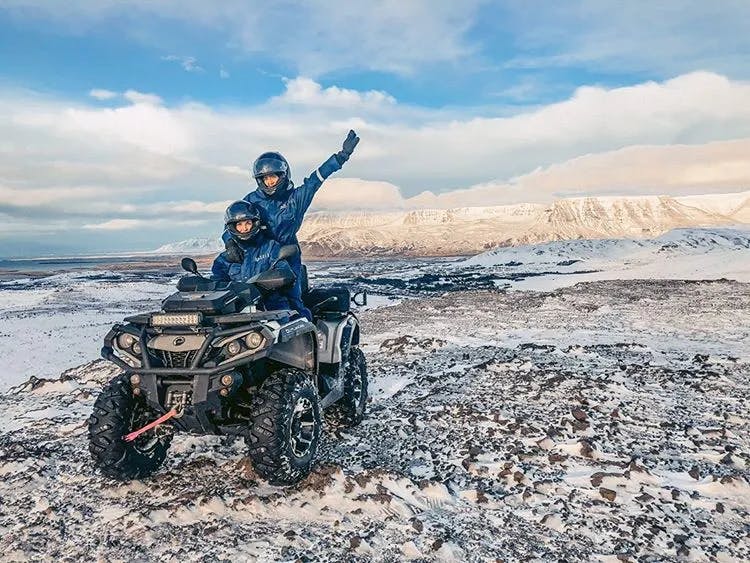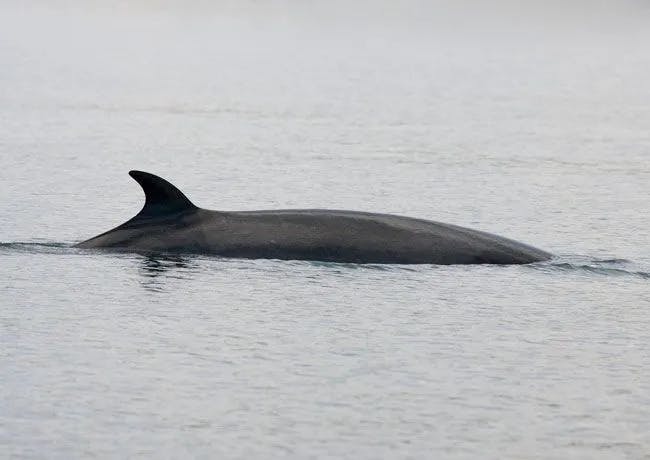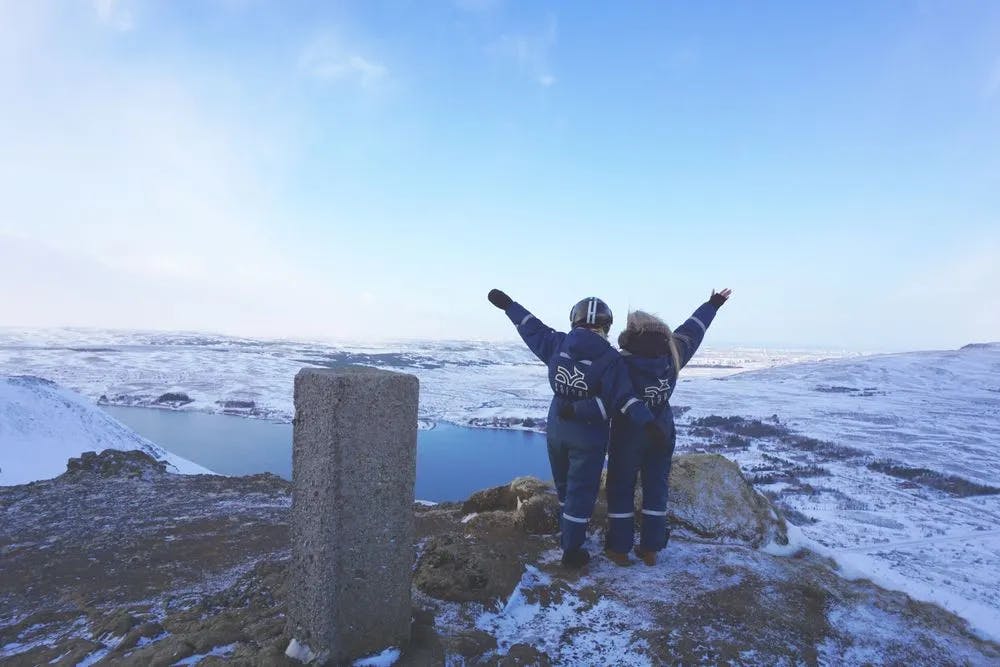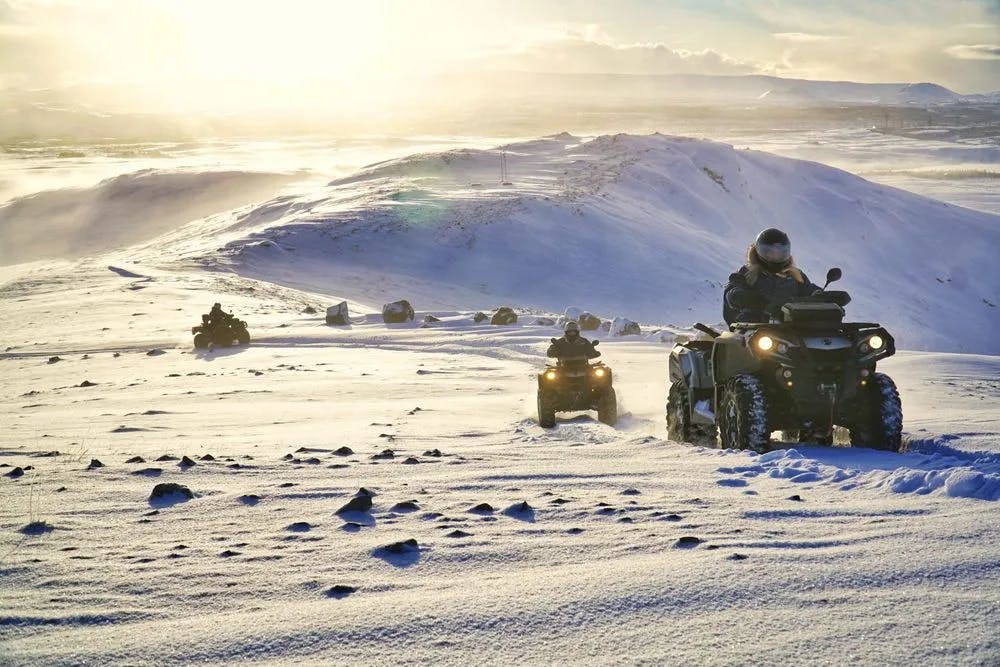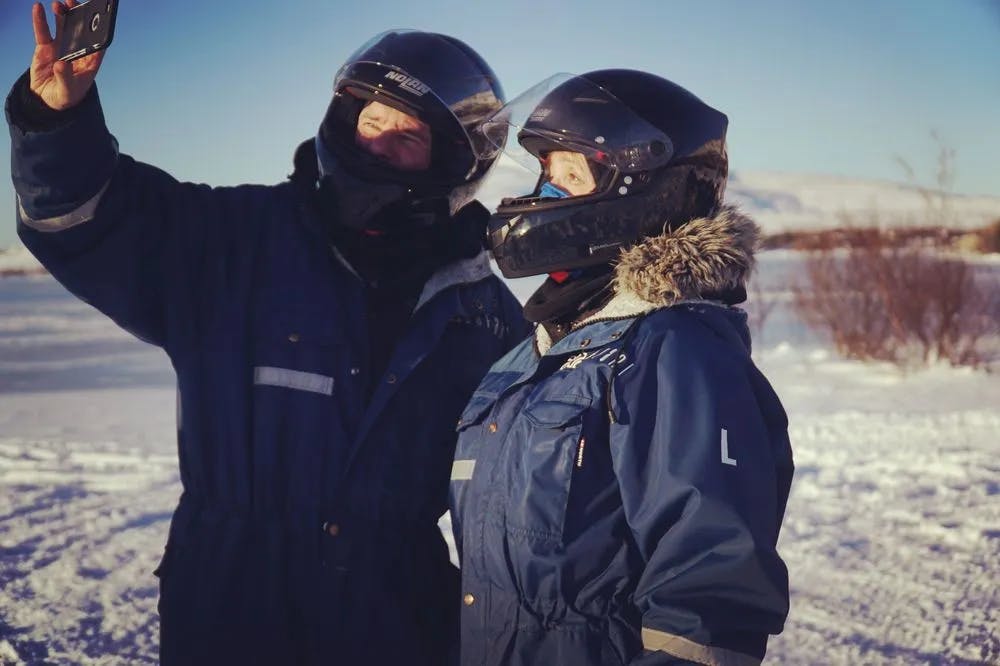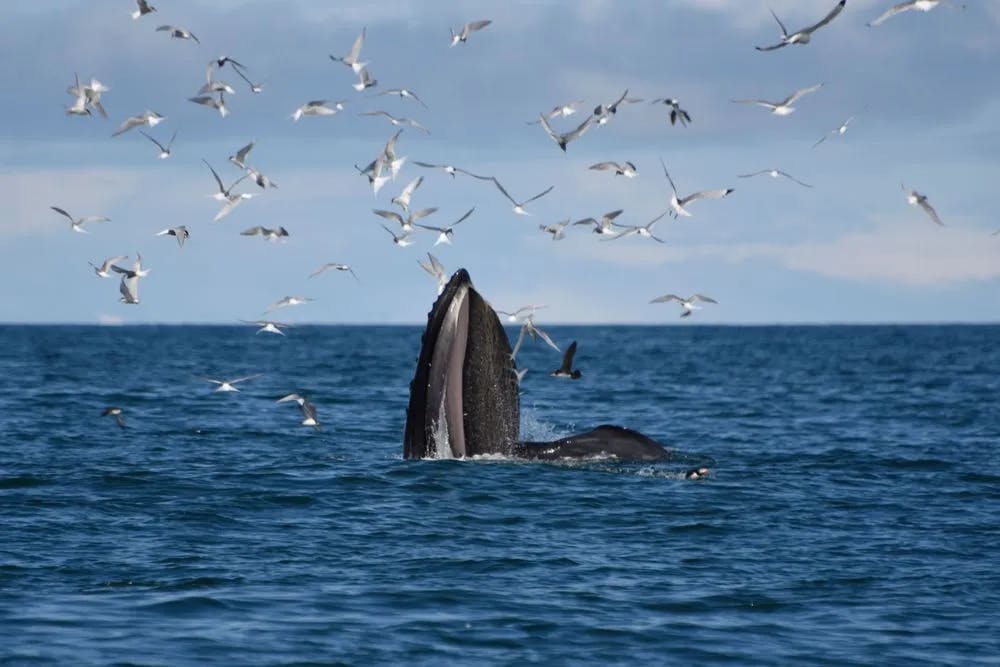 TVs AND WHALE WATCHING – WHERE ELSE BUT ICELAND?
Can't decide between a whale watching tour or a quad biking adrenaline rush? You don't have to! Our combination tour will give you both. Where else could you experience the best of land and sea but Iceland?
PART 1 – 1HOUR REYKJAVIK PEAK TOUR
It's no more than 15 minutes from your Reykjavik accommodation to our quad biking base camp. That's why we love this city! Having picked you up*, we'll take you to the camp for gear, instructions and safety training. No experience is necessary and our expert guides will make sure you know everything you need for a safe and fun ATV adventure.
Your quad bike tour takes you on a route along the lovely Lake Hafravatn, and a variety of terrains to have fun on. Then it's onwards and upwards as you bike to the top of Hafrafell mountain – the high point of your journey. From there you should be able to see the Hengill mountain range, Iceland's third most active volcanic system, together with Hellisheiði, the geothermal power plant for the capital area. A spectacular view over Faxaflói bay and the whole capital region, Bláfjöll mountain range and Esja, Reykjavik's house mountain, is waiting for you.
LUNCH IN REYKJAVIK HARBOR
After your ATV tour, we will drop you off at the old harbor, where Elding is located. With its nice selection of little restaurants and cafes, it is one of the coziest parts of town, and we're happy to make recommendations. While you refuel, you can look out across the bay and imagine the magnificent creatures that swim below the surface.
PART 2 – WHALE WATCHING BEYOND REYKJAVIK HARBOR
The boat is waiting as you head off in search of magnificent Minke whales and the other rich marine life of Faxafloi Bay. A 3-hour guided sea tour provides a fascinating insight into the life of the sea, and great views back to Reykjavik. Whales are a lot harder to predict than quad bikes, so sightings are never guaranteed! Cross your fingers that Mother Nature is feeling generous!
The pick-up options is from all bus stops in downtown area.
Please check www.busstop.is to see what bus stop is closest to your hotel.
All prices listed are per person. For single riders, the single-rider option must be booked. To book the shared option, a minimum of two participants is required.
AVAILABILITY
All Year
DURATION
8 HRS
LEVEL
Easy
MINIMUM AGE
6 Years
MEETING POINT
PICKUP INCLUDED
PICK UP
No
Faxaflói Bay & Reykjavik Peninsula - whale watching
WHATS INCLUDED
1 full hour out on the ATV trails
Gear: Overalls, helmet, ski mask, gloves
Whale watching adventure with Elding
Pick up & Return transfer from your local Reykjavik Hotel or bus Stop (please check if your hotel is listed to a bus stop)