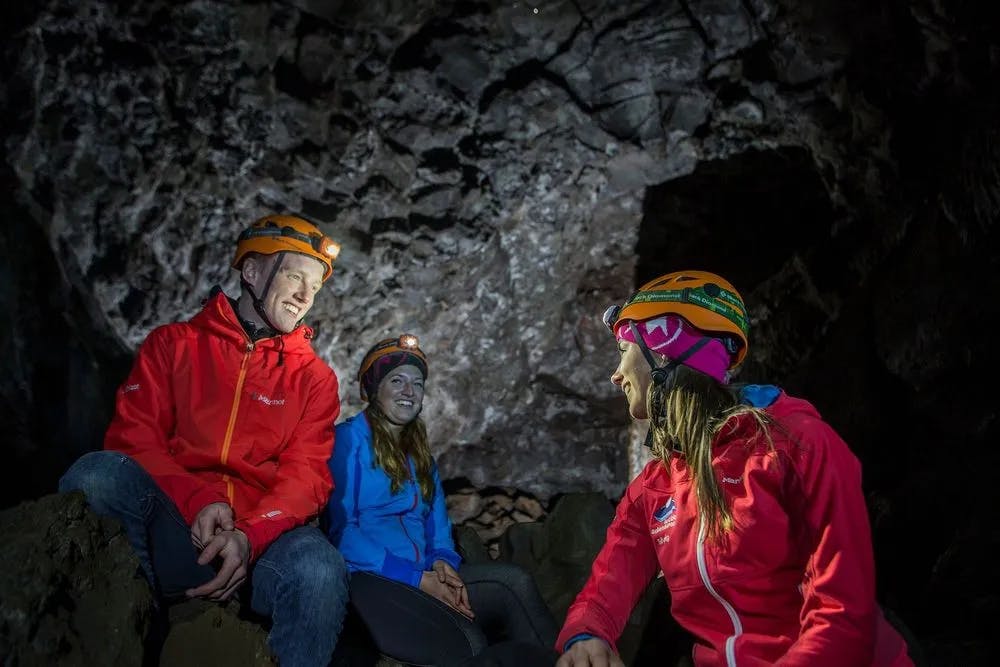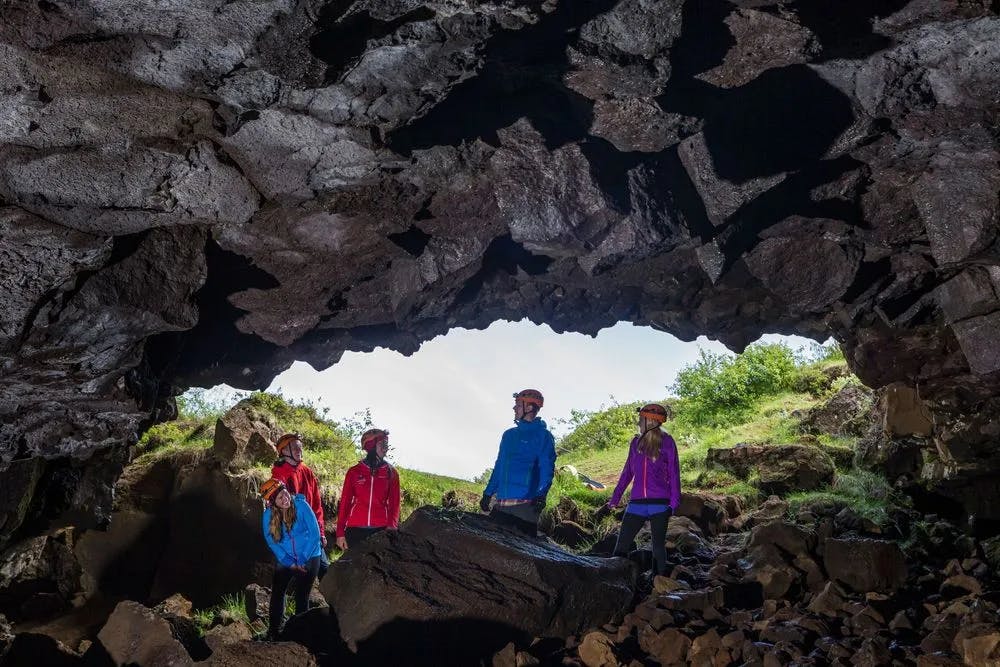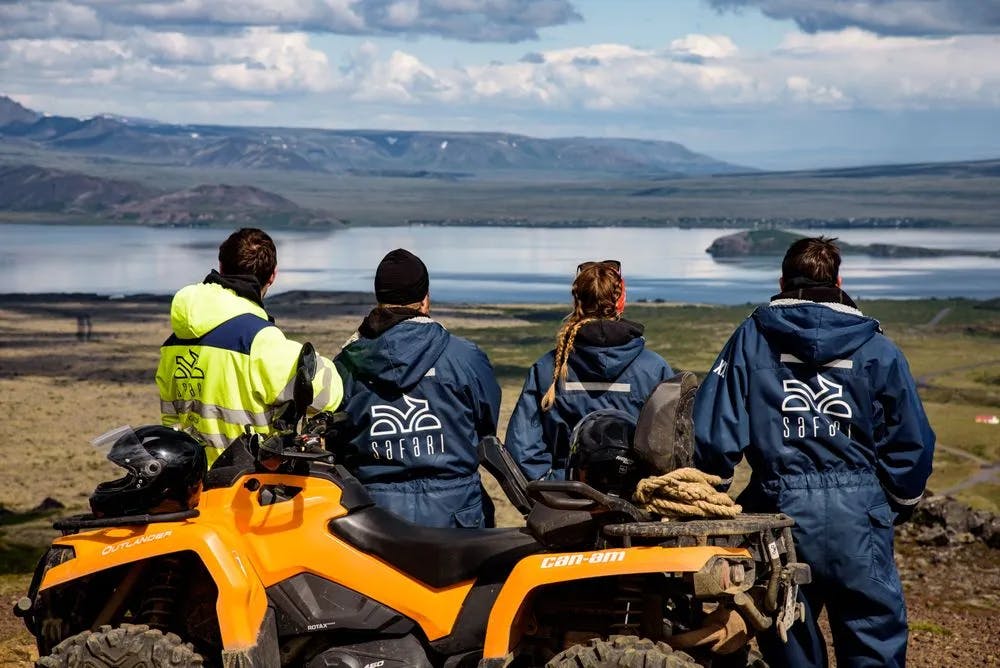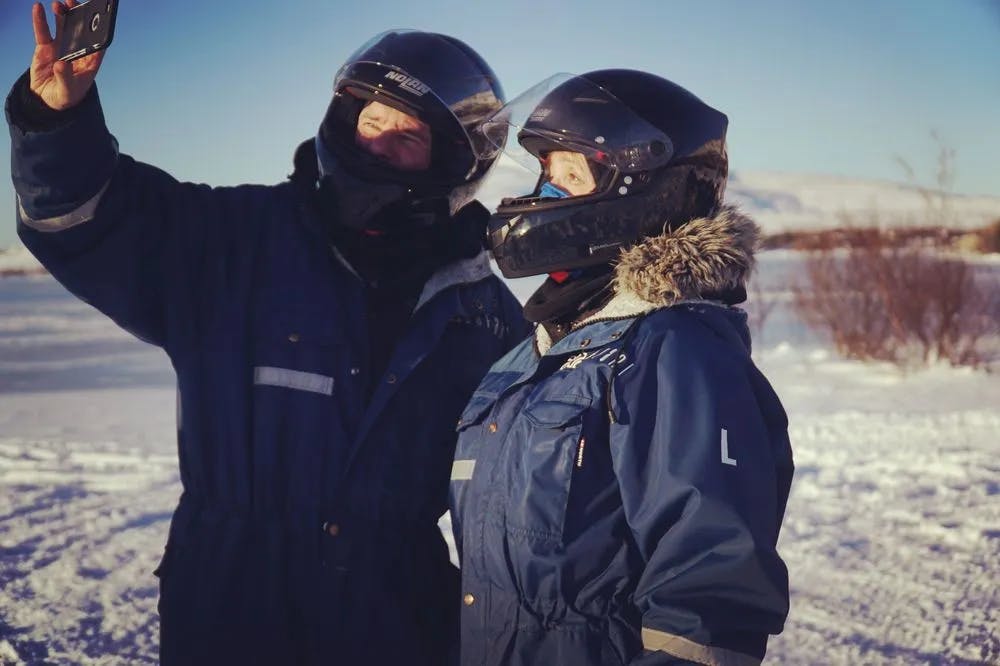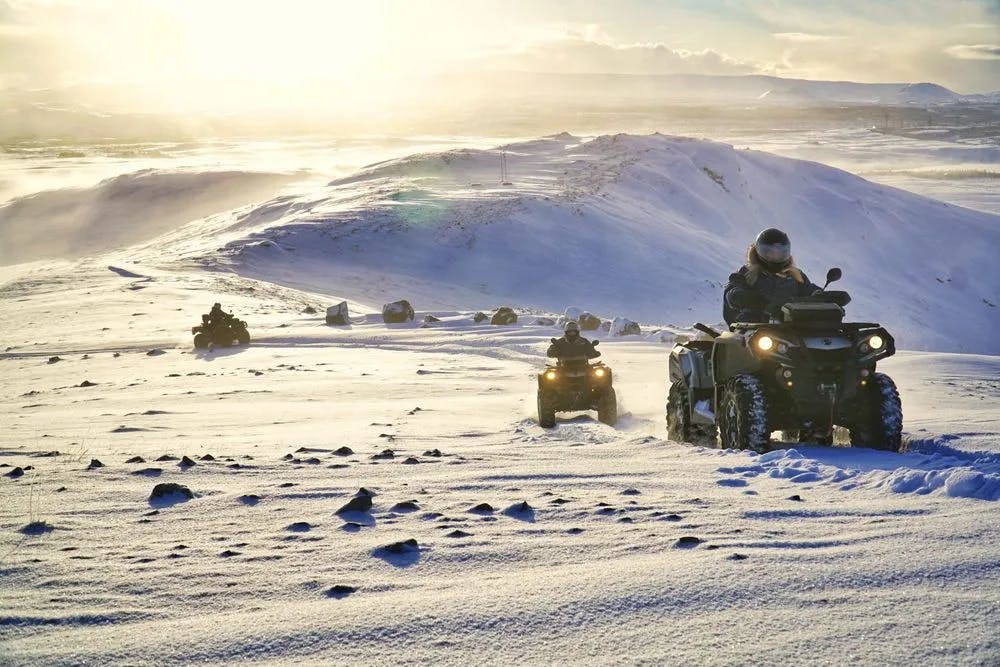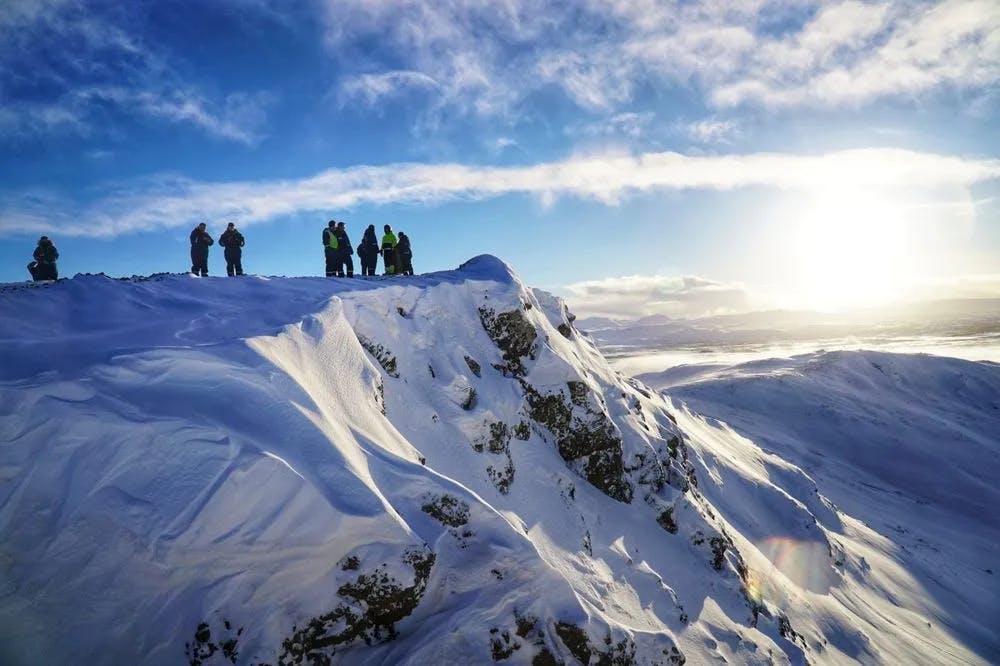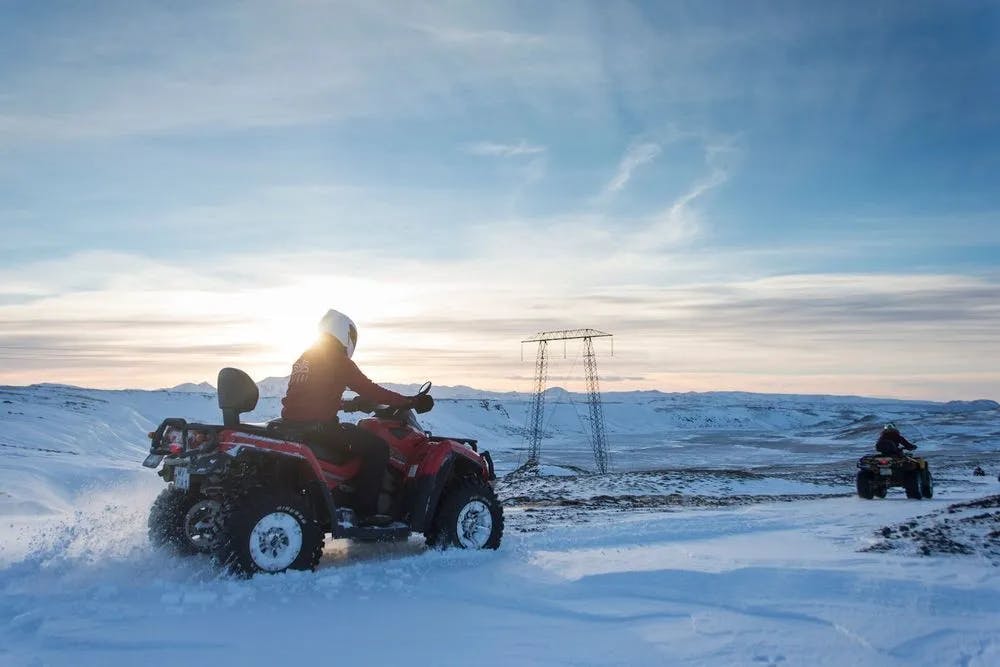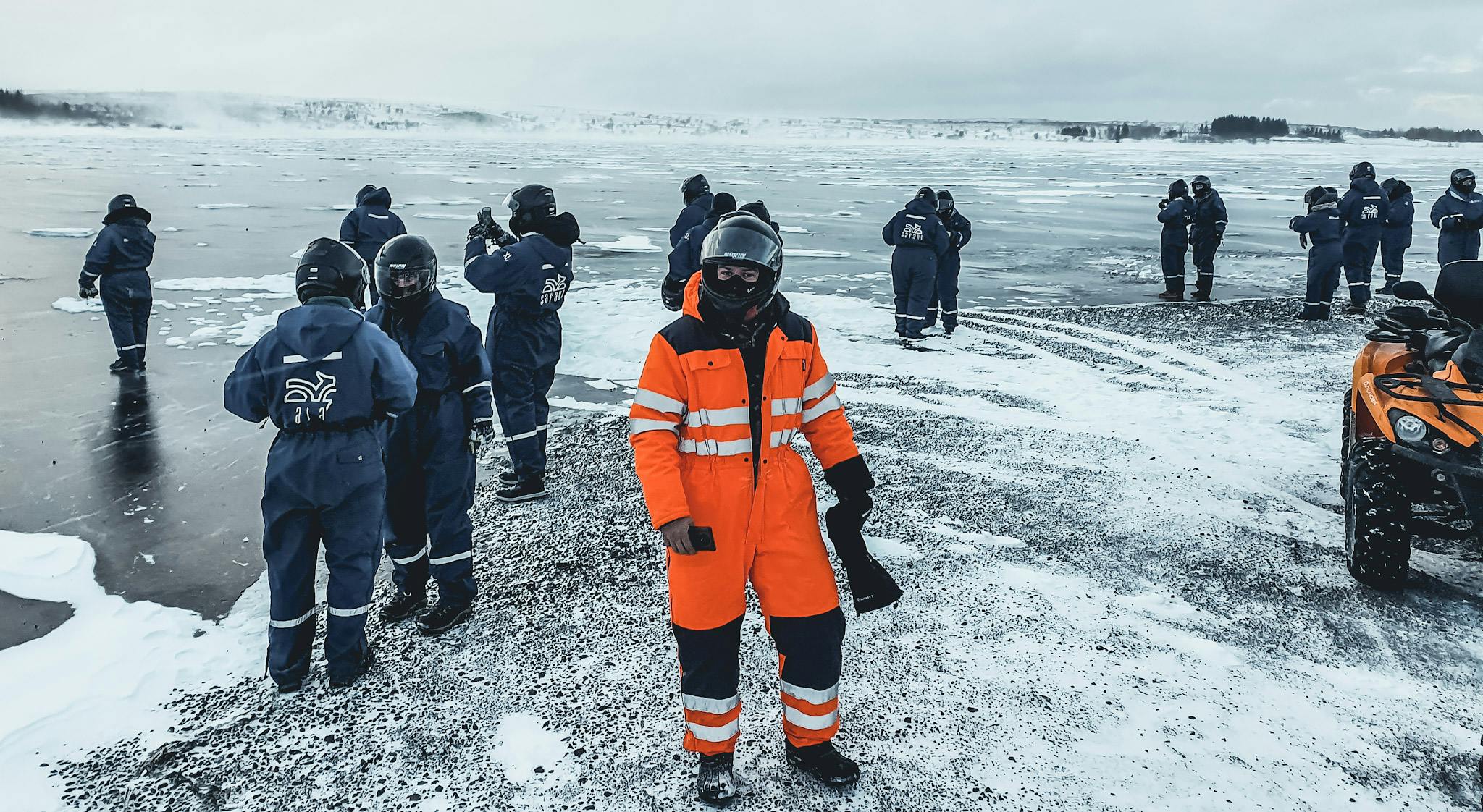 SAVE TIME AND MONEY WITH A QUAD BIKE AND CAVING TOUR
There's so much to see in Iceland, but only so much time. That's where our combo tours help you make the most of your time in Reykjavik. And what a combination – adrenaline-filled ATV action in the mountains, followed by a fascinating lava caving tour. Plus it's safe and suitable for everyone.
PART 1 – CAVING IN ICELAND – LIGHTS OFF, HEADLAMPS ON!
Iceland is known for its volcanic activity across the country. This is your chance to explore the fascinating subterranean landscape beneath the lava fields.
RAUFARHÓLSHELLIR – MIND-BLOWING!
Raufarhólshellir is one of the longest and best-known lava tubes in Iceland. This is a great opportunity to see the path of an ancient volcanic eruption. The Leitahraun eruption carved out the landscape around 5200 years ago. Every winter, wondrous icicles appear at the mouth of the cave.
The tunnel stretches about 4500 ft (1360 m), 30 m wide with headroom up to 10 m high.
Bring the whole family to discover the hidden world beneath us. With an endless multitude of colors and jagged rock formations, this lava caving tour is sure to give you a unique and captivating experience. This is a perfect opportunity to step outside your comfort zone and discover something completely new.
PART 2 – ATV ACTION – MINUTES FROM YOUR REYKJAVIK HOTEL
We pick you up from your Reykjavik hotel* or nearby bus stop – please check if your hotel is listed to a bus stop, and take the short journey to our quad biking base camp. There we'll make sure you get all the safety and driving instruction you need. No experience necessary – so all are welcome.
Your quad bike tour takes you on a route along the lovely Lake Hafravatn, and a variety of terrains to have fun on. Then it's onwards and upwards as you bike to the top of Hafrafell mountain – the high point of your journey. From there you should be able to see the Hengill mountain range, Iceland's third most active volcanic system, together with Hellisheiði, the geothermal power plant for the capital area. A spectacular view over Faxaflói bay and the whole capital region, Bláfjöll mountain range and Esja, Reykjavik's house mountain, is waiting for you.

All prices listed are per person. For single riders, the single-rider option must be booked. To book the shared option, a minimum of two participants is required.
Tracks are dependent on weather and trail conditions.
AVAILABILITY
All Year
DURATION
8 HRS
LEVEL
Easy
MINIMUM AGE
6 Years
MEETING POINT
Pickup Included
PICK UP
Yes
Raufarhólshellir Lava Tunnel Cave
WHATS INCLUDED
1hr Full on the ATV trails
Caving - Arctic adventures
Pick up & Return transfer from your local Reykjavik Hotel or bus Stop (please check if your hotel is listed to a bus stop)
Gear ATV : Overalls, Helmet, ski mask & gloves
Gear Caving: Helmet & Torch light (crampons/winter)